~ Lake Kawaguchi ~ Mt. Fuji What is Panorama Ropeway
Mt. Fuji World Heritage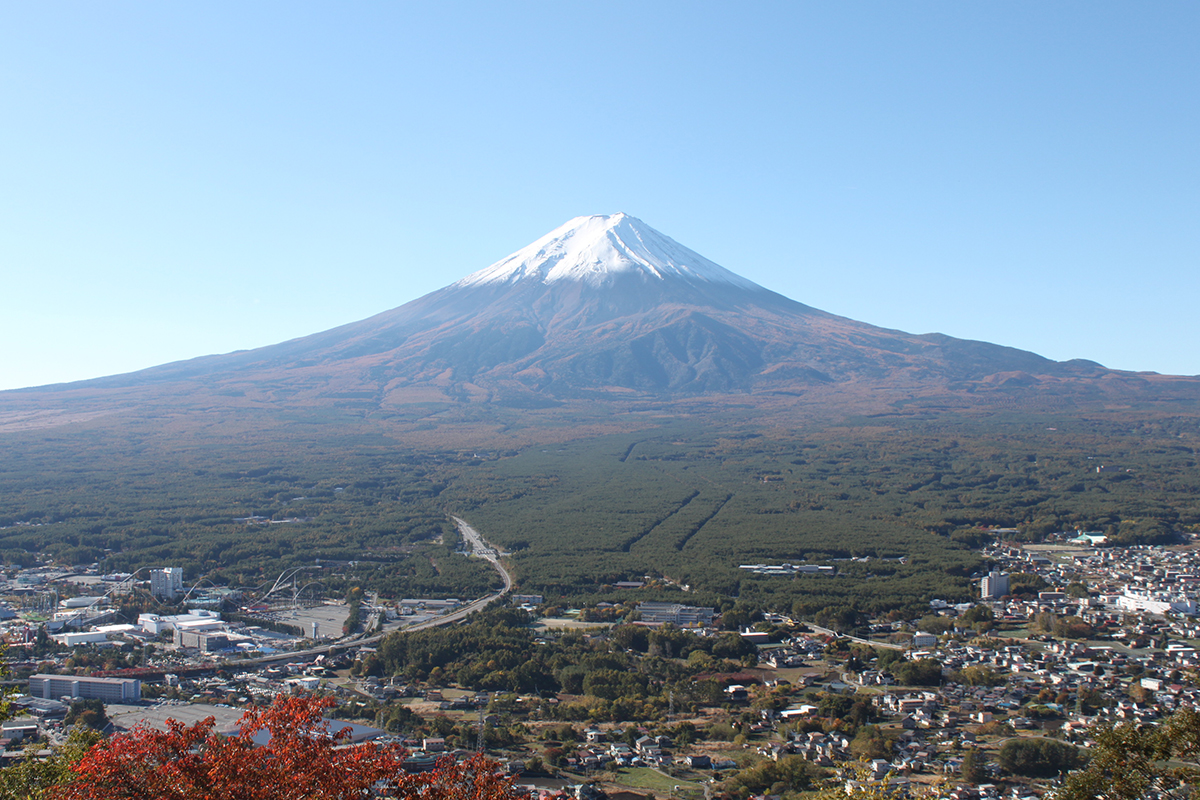 Mt. Fuji has been worshiped as a sacred mountain from the old days.
In the early Heian period, "Asama Shrine" was built to quell the eruption of Mt. Fuji at the foot of the mountain, a culture of belief in Mt. Fuji began.

In the Muromachi era, Fuji faith called "Fuji lecture" was born, and it seems that Mt. Fuji was climbed for many people to visit in the Edo era peak.
Red Leaves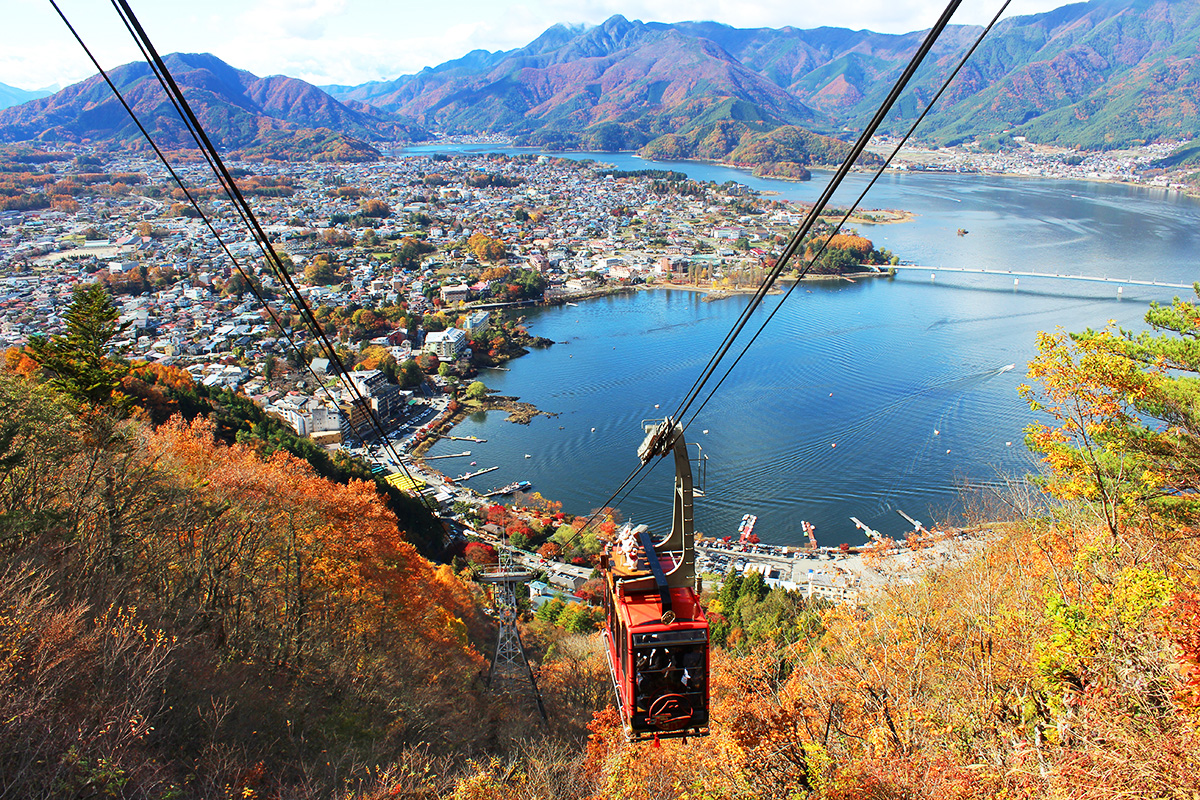 In autumn, the trees are colored and the rope goes through the golden colored autumn leaves. Lake Kawaguchi overlooking the eyes and autumn leaves coloring the lakeside can be enjoyed.
Story behind Ropeway
Old tale ticks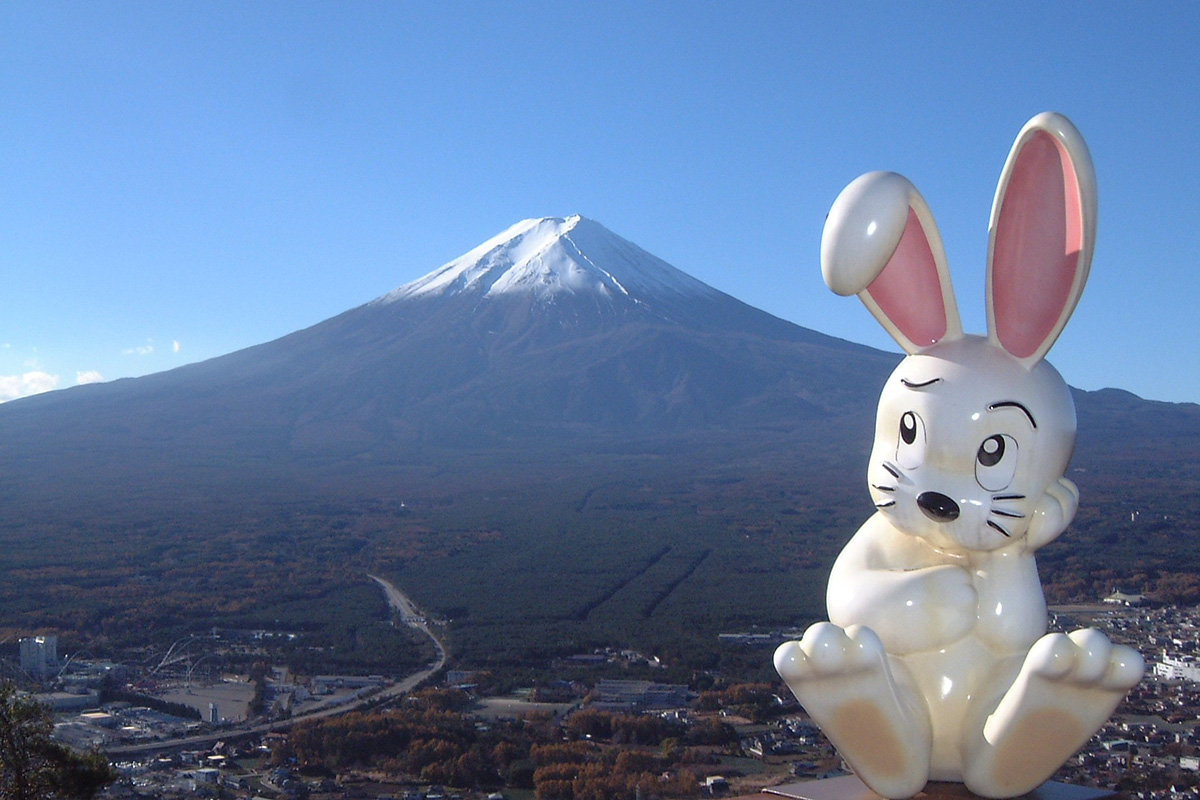 Do you remember the old tale "Kachigachiyama"?

Once upon a time, his grandfather caught a mischievous raccoon dog in the field. My grandfather came home and asked the grandmother to make a raccoon juice and then went out to the field again.
However, the raccoon dumplings cheated and slaughtered the old lady and killed the grandfather. The old man is deceived by the raccoon dumpling and eats the mother's broth.
My grandfather knew that he was crying as he caught. A rabbit who does not see it arrives and starts the victim of the old woman. I put a fire on the firewood with the raccoon dogs on fire and burned a big burn, painted spicy after burns, put on a muddy boom which sank just after inviting to the boat (rabbits are wooden boats) Drown and let the grandmother's enemies It is a story to fulfill.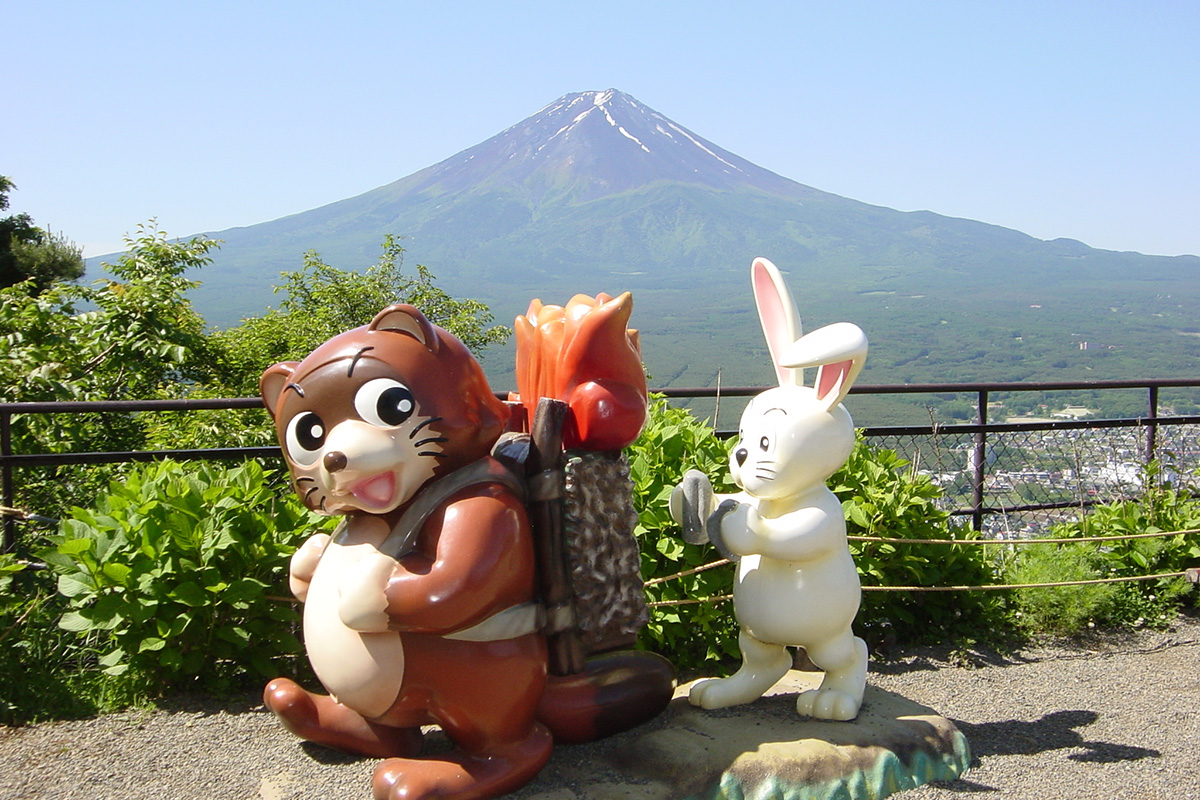 This place is said to be the stage of the old story is here Tenbo mountain.
It is famous for the scenes of the scenes where rabbits put "fire ticks" on firewood rabbits carried on raccoons.
"Is there any sound ticking somewhere?" It is a raccoon dog.
"That ticking bird in the ticket mountains is singing" is a rabbit.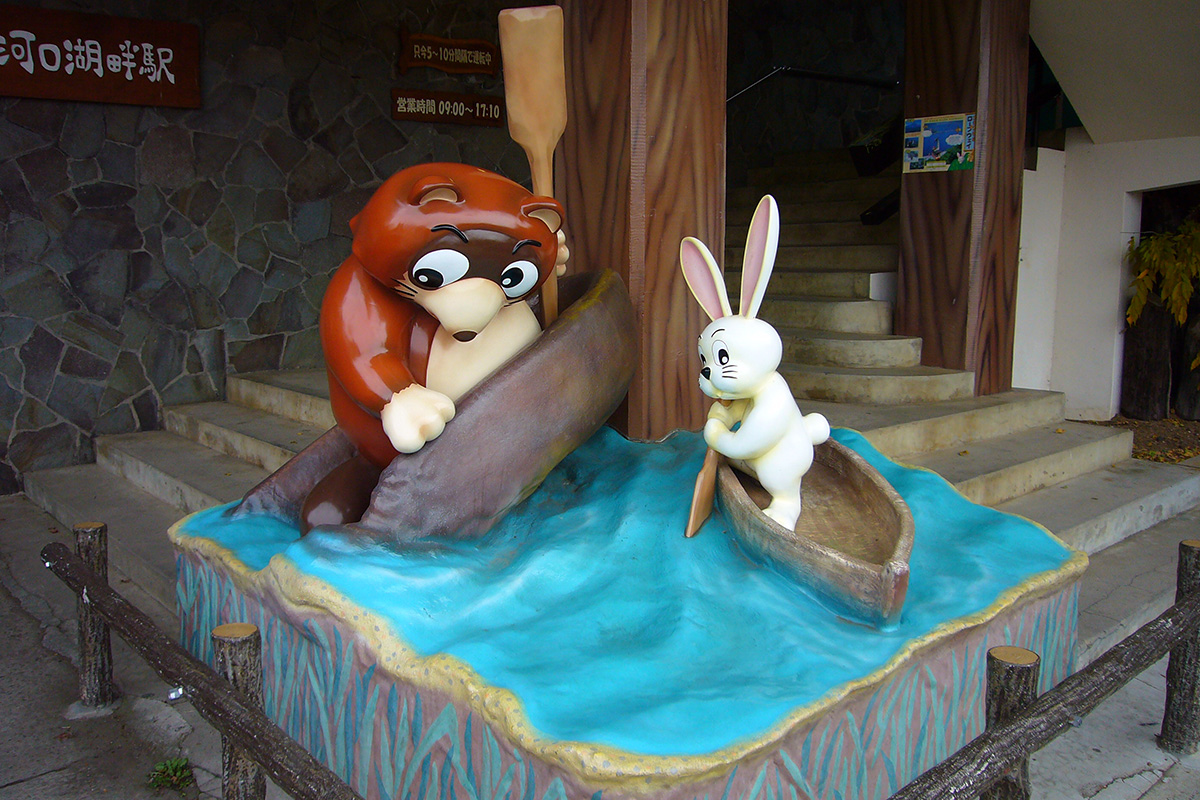 It is said that Kanaguchiko is the place where a raccoon dog riding in a muddle sank down a cliff where you could see under the ropeway that the raccoon dog went down while shouting "Aichi" on the back.
Anyway, the old tale "Kachigachiyama" ... is a bit cruel story.
Ropeway and Osamu Dazai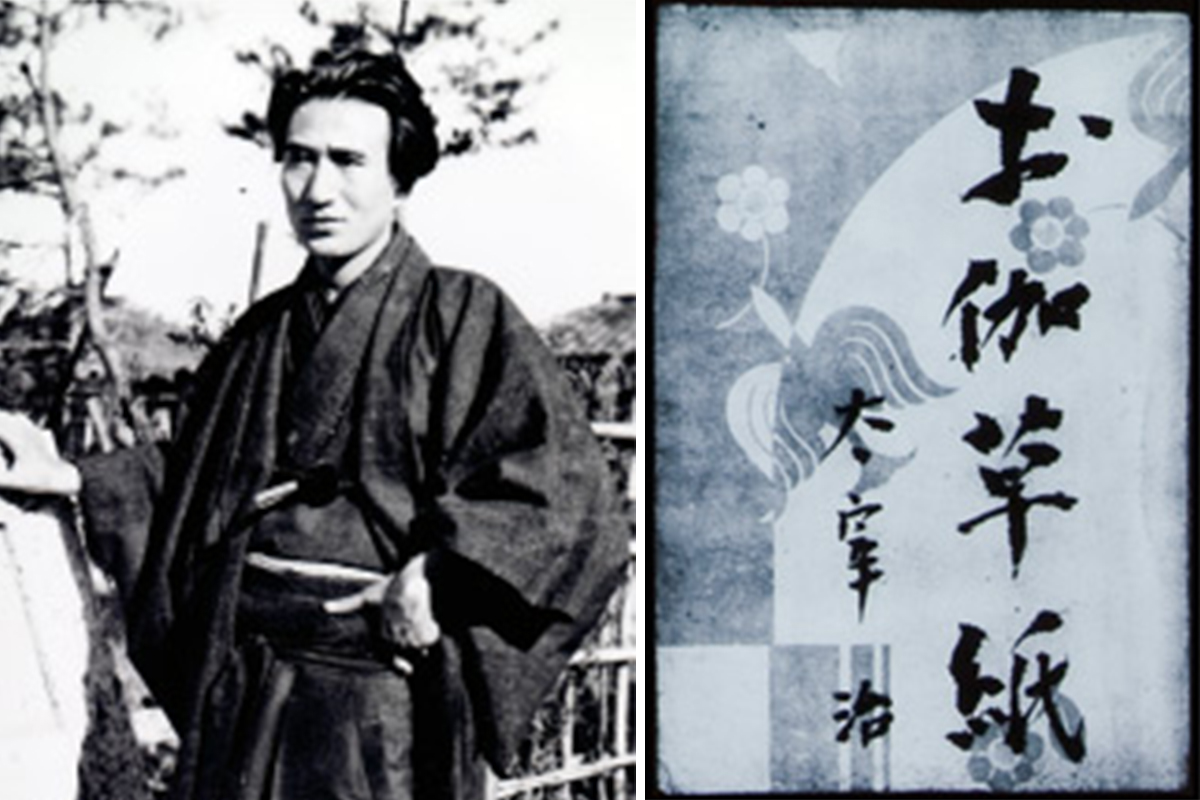 Osamu Dazai was born in Kitatsugaku-gun, Aomori Prefecture, born in Kitamitsugi-gun, Aomori Prefecture in 1909 and was an aura of Akutagawa Ryunosuke (1892-1927) aspiring for Akutagawa Ryunosuke (1892-1927) aspiring for the way of literature.
Although masochistic, it announced a lot of works accusing human hypocrisy with an exquisite speech mouth, and after the war it played a role as a jockey of literary faction.
The main work has "Running Meros", "Human disqualification", "Taiyo", "Sakuramo".

In 1938, when he was 29 years old, Osamu Dazai stayed in the Tencha tea house of Misaka Toge, Fujikawaguchikocho, invited by Inoubu Kousuji (1898-1993) who looked up to be a teacher to heal mental and physical fatigue.
Based on the experiences of this time, "Fu Takigake", a novel "Ticking Mountain" (recorded "Otogarezo") is written.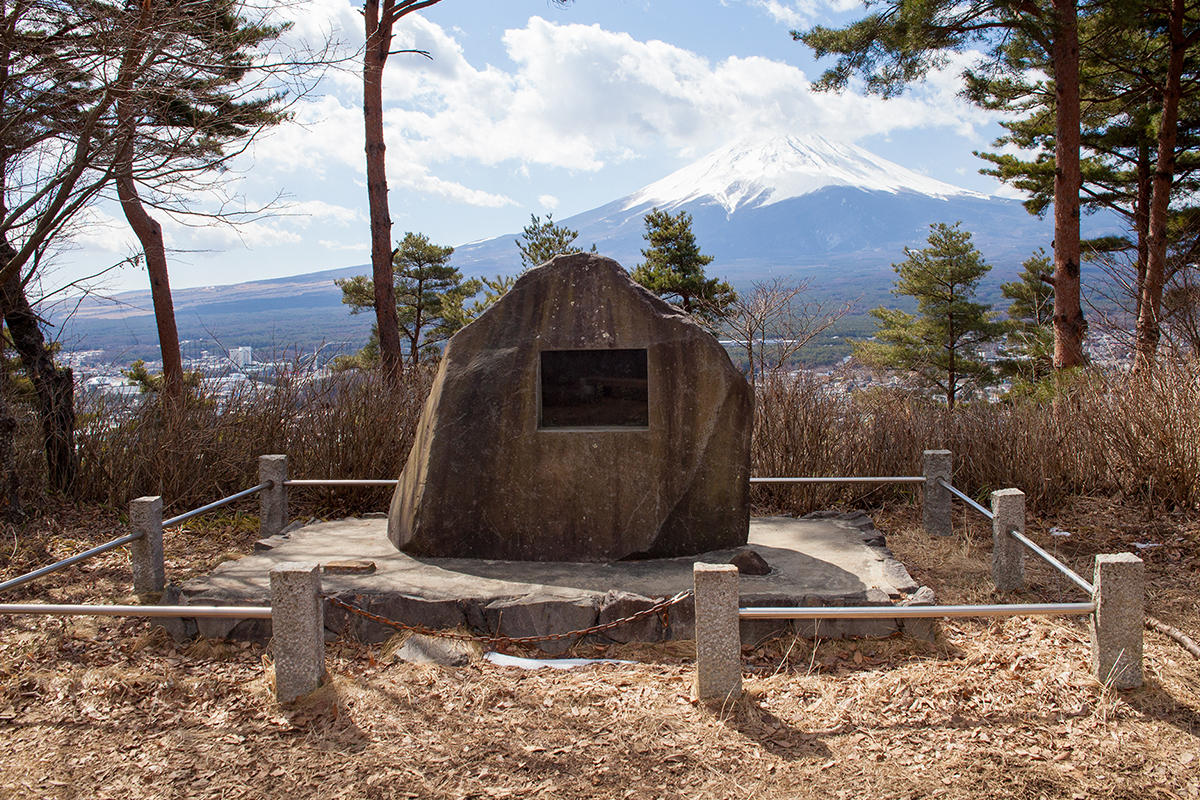 In the Fujikawaguchiko Town there is a related document of Dazai left at the literary memorial room of the second floor of Tencha Tea house where Dazai stayed (Old Dazai Government Memorial Room), near the literary monument "Fuji well matches evening primrose (From "Fugen-dake 100 sceneries").
There is a literary monument "Fell in love with you" (from "Ticking Mountain") here in Maohei (Middle of Temple Mountain) here.
It takes about 30 minutes by car to Midosaka Tenka Tea Shop, but it is about 20 minutes from Down Promenade to Maohei.

Why not leave yourself to time flowing slowly and rich nature, while descending from the mountain while remembering Mr. Long Day.
How Ropeway Works
The ropeway uses a thick rope (rope) called "support" for railroad tracks, with a thin rope called "trunk" (escape) and "balanced rope" (gaiko) It is a "crossover" ropeway that moves up and down.
On the other hand, lifts and gondola lifts found at ski resorts adopt a method called "circulation formula".